Vision Sisters FAQ
What is Vision Sisters?
Vision Sisters are Australian women joining together with compassion to stand by our sisters facing poverty and injustice around the world. We see the beauty and value in every woman and believe we are called to open our arms and hearts to the most vulnerable. This year, our goal is to save the lives of mothers and babies by providing 60,000 clean birthing kits and training health workers.
How can I get involved in Vision Sisters?
You can get involved by registering on the Vision Sisters web page. You can then set your goal and begin to share the initiative with your friends. It's not only a great way to provide practical help to our sisters in need, but also a fun and inspiring way to engage with and connect women of all ages– as well as friends, family and neighbours. You can then top off your efforts with a fun and exciting packing event. You can pack your own birthing kits and have them shipped to a World Vision project to help your sisters in need.
What is a clean birthing kit?
A clean birthing kit is so basic that it costs less than a cup of coffee. Yet it can help prevent infection and save lives. Each birthing kit contains six items needed to ensure a clean delivery:
a plastic sheet to lie on

gauze to wipe the baby's eyes and mum's perineum

cord for clean tying of the umbilical cord

gloves for clean hands and preventing infection

sterile scalpel blade for a clean cut of the umbilical cord

soap for clean hands and preventing infection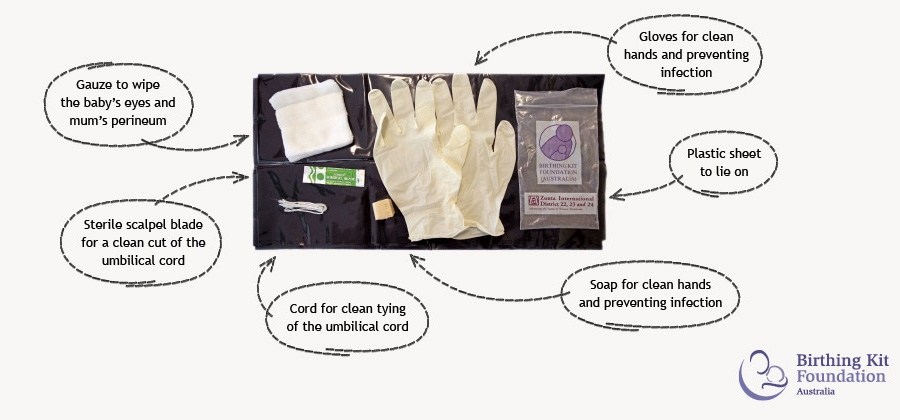 How much does a clean birthing kit cost?
A clean birthing kit costs about $3 – less than a cup of coffee. This includes the contents of the kit, courier costs to send the kits to and from your group, and transporting the completed kits to World Vision's Maternal, Newborn and Child Health projects, if supply eceeds demand, kits will go to World Vision projects in Tanzania, Democratic Republic of Congo or where most needed.
Why aren't more items included in the kits?
The clean birthing kits are a simple, cheap and effective solution for women in some of the poorest and most remote communities in the world. More items would add to the weight and cost of the kit, lowering the number of kits the Birthing Kit Foundation (Australia) could produce and send. The ease and simplicity of the kits also means that women are more likely to use them and less likely to continue unsafe birthing methods.
How can we fundraise?
Start by registering on the Vision Sisters website to create a fundraising page for people to donate towards your group and for you to watch your fundraising progress.
Groups can fundraise in a range of creative ways - some run fundraising morning teas and movie nights, some invite those attending the packing night to donate to attend, some get sponsors to support them in taking on a challenge. We have a range of resources online that can help you in these initiatives, and a friendly team to work with you and your community. You can also invite people to generously give a 'sister gift' and guide them with the following outline of where their donation goes:
A $30 Sister Gift will help provide six clean birthing kits, and contribute $12 to help train health workers

A $50 Sister Gift will help provide ten clean birthing kits, and contribute $20 to help train health workers

A $100 Sister Gift will help provide twenty clean birthing kits, and contribute $40 to help train health workers so women and children in countries like Uganda can access maternal, newborn and child health services.
How much should we aim to fundraise?
Any fundraising will make lasting change, however if you would like to hold a birthing kits assembly event, the minimum target to work towards 200 kits ($1,000). We are keen to help you fundraise and pack as many kits as you would like, so get in contact with our team to support you in your goals to make a big impact!
Just remember that we provide kits in bundles of 200 (eg. 400, 600, 800). This means if you raise enough for 500 kits, we'll only be able to send you resources to pack 400 of those kits. We know how keen everyone is to pack the kits they've fundraised for, so we set these limits to help us be good stewards with our time and resources and support all our supporters. We hope you understand!
How can people donate?
Once you have created your supporter page you can share it with your friends and family. They can go online and make their donation and share it with others too. Cash donations can be deposited using the downloadable pledge form on the side of your supporter page.
How do I host a birthing kits assembly event?
All you need are willing participants to help pack at least 200 kits, a suitable room or hall in which to work and the required funds (minimum $1,000 donation).
Once you have created your supporter page you will receive a Getting Started Pack which includes all the details you need and promotional materials to help you fundraise. You can raise your funds on the Every Day hero page, encouraging friends and family to make a contribution. You can also host a fundraising event like a high tea, a social night or a trivia night and auction.
Once you have raised enough for at least 200 kits, contact Vision Sisters Co-ordinator on 13 32 40. You will be emailed a birthing kits order form and Assembly Event Manual, which includes all the information you need to make your assembly event a success.
Why is hygiene so important at the birthing kits assembly event?
As the purpose of the clean birthing kits is to prevent infection during childbirth, the kits need to be packed in a hygienic manner. The Assembly Event Manual you receive when you book your event will give you ample detail regarding all aspects of hygiene.
How do I promote my birthing kits assembly event?
If you choose when you will hold your packing event (taking into account that you need to raise your funds and complete the Birthing Kit Foundation booking process) you can promote that event in a variety of ways. You could create a Facebook event and invite people, you could post out personal invitations or you could promote it so that anyone can come. In addition your Getting Started Pack contains a variety of things you need to promote your event, including Sister Gift cards, printable promotional posters and flyers, a short video and assembly event sign-up forms.
How can I be sure the kits will get to their destination?
World Vision staff report back to the Birthing Kit Foundation (Australia) when the kits are received in the field. We also share updates to our supporters when we receive them too!